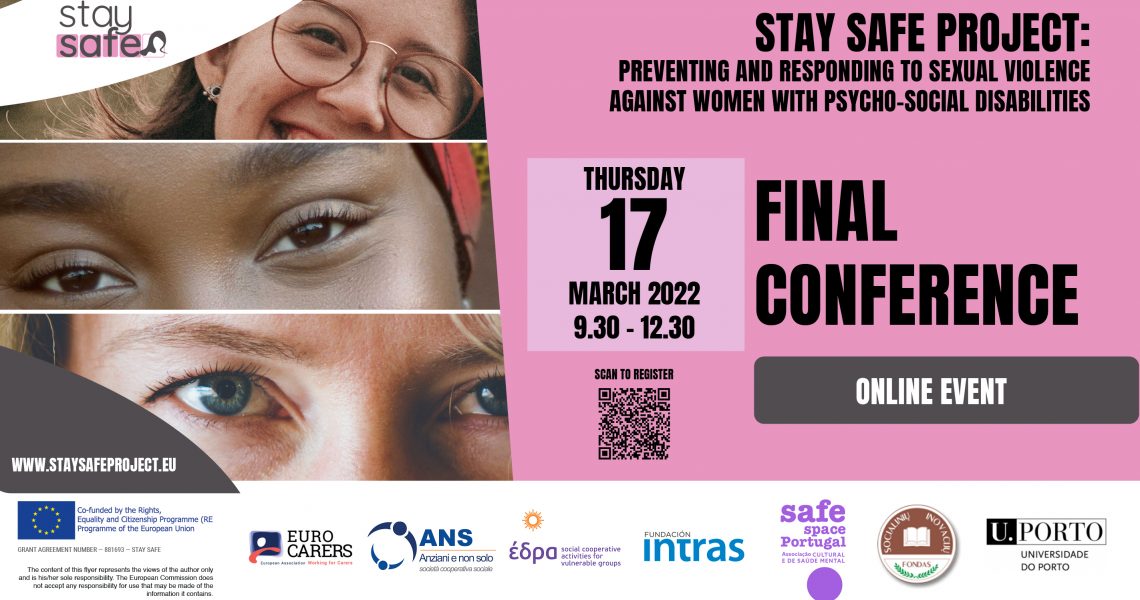 Stay Safe Project: final conference – March 17, 2022
17 February 2022
Stay Safe project: preventing and responding to sexual violence against women with psycho-social disabilities 
Final conference – Thursday 17 March 2022 – ONLINE EVENT
How to protect women with psycho-social disabilities against gender-based violence, both online and offline? How to help professionals and informal carers recognise risks of sexual harassment to which women with psycho-social disabilities are exposed to, and support them? How to empower women themselves? The Stay Safe project hasdeveloped a training model for women concerned, based on creative drama techniques and gaming elements. It also produced a training model for professionals and carers, as well as awareness raising material.
Concluding two years of intense cooperation, the conference organised online on the 17th March (9.30 – 12.30) will offer the opportunity to discover concretely the Stay Safe tools, learn about the outcome of the piloting in five countries (Greece, Italy, Lithuania, Portugal, Spain), and discuss the state of play of the fight against gender-based violence against vulnerable women with representatives of institutions and key stakeholders.
REGISTER HERE BY 14 MARCH, TO LEARN ABOUT THE TRAINING MODELS AND TAKE PART IN THE DICUSSION
Agenda
9.30 – 9.40  Introduction to the meeting 
Ms Claire Champeix (Project and Policy Officer, Eurocarers);
Ms Licia Boccaletti (Project Coordinator, ANS)
Screening of the Stay Safe documentary
9.40 – 11. 00 Presentation of the project outputs and piloting
Moderated by: Ms Licia Boccaletti (Project Coordinator, ANS)
State of play in participating countries
Fotis Skouras (Researcher, EDRA)
Training programmes and online learning resources for women and professionals
Alessia Palermo (Project Manager, ANS)
Outcomes of the piloting 
Marta Ortiz Rodríguez (Project Manager, INTRAS) & Rita Tavares de Sousa (Researcher, UP)
Testimonies of people who participated in the training in the different countries will be shared through videos.
Questions and answers
11.00 – 11.15   Break  
11.15 – 12.15 Panel discussion 
Preventing gender-based violence against women and girls with psycho-social disabilities: Where are we at? What should be done? How to strengthen our action?
Moderated by: Dr Emma Miller, Senior Research Fellow, University of Strathclyde (Eurocarers)
 Ms Maria Rosaria Mollica, Policy Officer,  (European Commission, Directorate-General for Justice and Consumers)
Ms Marine Uldry, Human Rights Officer, European Disability Forum
Ms Laura Kaun, Policy and Campaign Officer, European Women's Lobby
Ms Helen Portal, Policy Officer, Inclusion Europe
         Questions and answers
 Ms Radka Maxova, MEP, Vice-Chair of Committee on Women's Rights and Gender Equality
12.15 – 12.30 Concluding remarks and take aways 
Ms Licia Boccaletti (Project Coordinator ANS)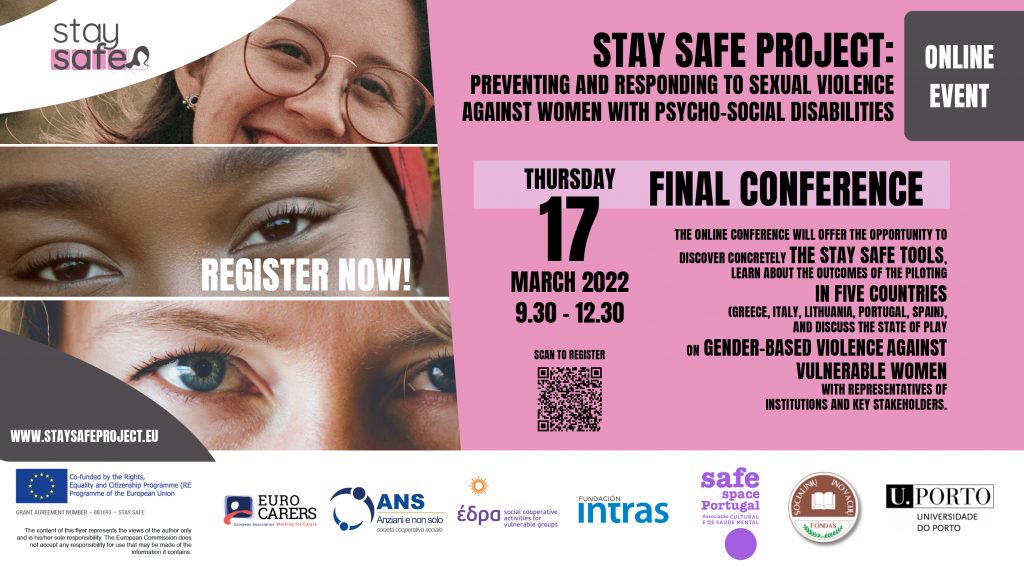 GRANT AGREEMENT NUMBER — 881693 — STAY SAFE